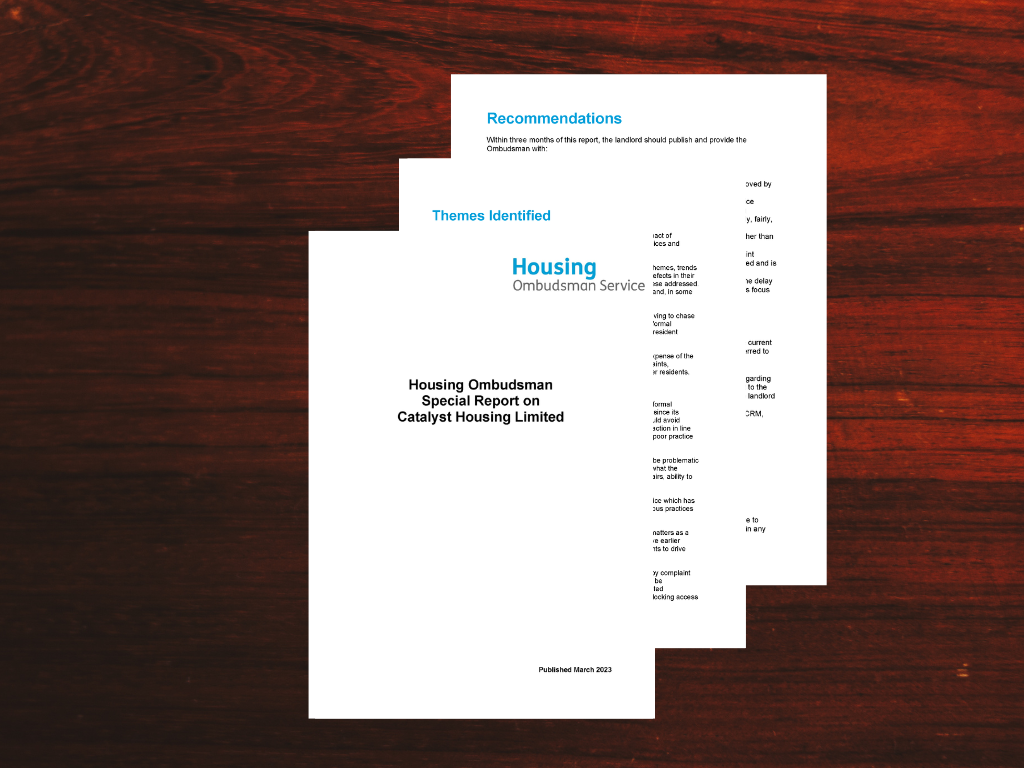 We have urged significant improvements ahead of Catalyst Housing's merger with Peabody, following an investigation that found the landlord "routinely failed to recognise formal complaints" and that aspects of its service were arbitrary, disjointed and concerning.
We used our systemic powers to conduct a further investigation beyond an initial complaint that may indicate wider service failure.
The investigation was initiated by a case where we found severe maladministration for the landlord's significant failings in handling a complaint from shared owners about cold and draughty rooms and other defects in their new build house.
The landlord's responses did not sufficiently identify what had gone wrong, what action would be taken to remedy the defects or assess to what extent it had met its responsibility.
This report is based on complaints initially made to the landlord in 2020/21 and that were brought to the Ombudsman for investigation over a six-month period from 13 May 2022. The Ombudsman made 31 findings across these 13 cases with a maladministration rate of 90%.
In one case, a resident and her premature baby were left in cold living conditions, despite severe health complications with the baby. The landlord passed the case from department to department and did not investigate the issue until four months after it was first reported.
We identified seven key themes and set out a series of recommendations:
Informal complaints – The landlord frequently handled complaints in an informal fashion, which led to confusion over the status of residents' complaints and sometimes undermined natural justice. Among the changes made because of this investigation, the landlord has adopted Peabody's complaint handling procedure and introduced a centralised complaints team as part of ensuring compliance with the Complaint Handling Code.
Quality assurance – A more comprehensive approach to quality assurance may have detected the issues identified by the Ombudsman. The landlord should define its quality standards and assurance process, including monitoring of its service recovery case handling to ensure it is being used appropriately.
Complaint handling – The landlord often offered

compensation

as a way of resolving the complaint without investigating the issues raised. This meant underlying issues were left unresolved and learning from cases was not evident. A lack of resources in the complaints team was one reason for some of the failures, including the inability to escalate some complaints to stage two or signpost to the Ombudsman at the end of stage two. The Ombudsman has reviewed a sample of the landlord's most recent complaints correspondence and is encouraged to note there are clear improvements.

Compensation

– The landlord's offer of

compensation

was not always commensurate with the severity of the issue. The Ombudsman has recommended the landlord clarify its

compensation

policy set amounts and the ability to consider on a case-by-case basis. The landlord should also introduce a process for checking how staff are exercising discretion and 'common sense' fairly and appropriately.
Repair records – The quality of repair logs were often problematic, including missing repairs logs, closing jobs in error, and reported repairs and completion dates not being captured accurately. This resulted in delays to issues being addressed, as well as confusion, uncertainty and frustration for the resident. In response, the landlord developed a centralised CRM database. Concerned there are still issues in this area with consistency, the Ombudsman has recommended a review into its record keeping process and a training needs analysis to be undertaken for all staff.
Aftercare for new builds – There was a lack of coordination between the aftercare team for new builds and the complaints team, which led to lengthy delays in sorting defects. The landlord now has defect management and aftercare operating as a centralised team and has implemented measures to improve internal record keeping. The Ombudsman has recommended staff training for the new defects management system and for the landlord to publish its aftercare policy.
Communication – Underpinning and linking all of these themes is communication. There were issues with both internal communication between service areas and externally with residents, with the landlord frequently failing to internally communicate effectively and in a timely manner. The repairs, complaints and aftercare teams did not always share information appropriately. There was also concern around the landlord's communication tone which did not always demonstrate empathy to residents or recognise individual circumstances.
The landlord has engaged with us during the investigation. This included meeting with us to discuss the themes we identified and what actions they have taken, or proposed to take. The landlord has also responded promptly to all evidence requests and requests for clarification.
Richard Blakeway, Housing Ombudsman, said: "From the outset, the leadership of both landlords has been open, focused and proactive in response to issues emerging from our investigations.
"These found the landlord routinely failed to recognise formal complaints and treat them as such. This caused unacceptable delay in dealing with issues and subjected residents to ongoing distress and inconvenience.
"This could be compounded by poor internal communication, with one resident waiting 40 months for defects to be addressed, including stopping the water coming into the property.
"Where compensation was offered, payments were haphazard rather than based on an investigation, and too often failing to take into account the effect on the resident.
"Ultimately, a lack of defined quality standards means the landlord is stymied in trying to monitor and assess whether it is handling complaints well and appropriately.
"Whilst the landlord has accepted our recommendations, I welcome its focus on ensuring that the learning does not get lost as it finalises a its merger. This includes a focus by the governance and leadership teams on embedding change, as well as effective processes and strategies in place to ensure the problems experienced by residents of Catalyst Housing will not be repeated once under the stewardship of Peabody."
This report provides insight to help the merged landlord strengthen its complaint handling and address the substantive issues giving rise to complaints, to help extend fairness to other residents and prevent complaints in future.
Where we issue a special report, we invite the landlord to provide a short statement on the lessons learnt and its progress in addressing them.
Catalyst Housing learning statement:
Aspects of Catalyst's complaint handling, record keeping and communications prior to joining together with Peabody in April 2022 fell below the standards residents have the right to expect. We are sorry for this and are putting it right.
We have reviewed and strengthened our procedures, increasing our emphasis on the Complaints Handling Code through training and recruitment and ensuring that Catalyst's approach is aligned with the rest of the Peabody Group.
We accept the recommendations of the report in full. Whilst the cases investigated and monitored in this report all relate to 2020/21 and predate the changes Catalyst has made, we are clear about the need to continuously improve our services. A new panel, composed entirely of residents and chaired by a Board member, will make sure that the recommendations are properly implemented.
We want to be sure that all areas of our complaints handling service are working well, so are carrying out a top to bottom group wide comprehensive review led by our Chief Operating Officer. Along with a systematic audit approach to learning lessons from complaints, this will identify further improvements and provide quality assurance throughout our complaints service.
A Leadership panel is also in place, interrogating complaints handling to ensure vital signs are spotted, acted on and escalated. Regional Managing Directors are tasked with ensuring that learning from complaints is rigorously applied in the service. We're also focussing on professional standards, certification and accreditation as well as embedding the right values and behaviours in all our teams.